Custom Automotive Stamping Parts
China Sipxmach is invested by Chongqing Hegao Automotive metal stamping Co., Ltd. It is found in 2008. Sipxmach is proud to offer high quality, cheap price cutting-edge component to a wide range of clients in the automotive field. Sipxmach have the ability to handle the any size of production and capacity to manufacture sheet metal components with highest standards. It's no wonder that automotive leaders have trusted sipxmach metal stamping for their sheet metal stampings with their automotive custom stamping parts more than 10 years.
Sipxmach manufactures a wide range of precision metal stamping for the automotive industry – from precious metal stamping to large-gauge steel parts. Sipxmach understands the importance of affordable and durable in making custom auto stamping parts. The expenses you paid for a quality new part will cause less faulty or damaged. We provide you with every production details you want in the stamping proccess for your business.
Contact us today if you're in need of automotive stamping services. We'll work with you directly from start to finish until the job is done to your standard of satisfaction.
Automotive stamping parts
-metal stamping parts that constitute automotive parts.
In automotive parts, some parts can be used directly after stamping.
The other part after stamping also need to go through welding, or mechanical processing, or paint and other processes to become a part of the car.
Automotive stamping parts and body structure: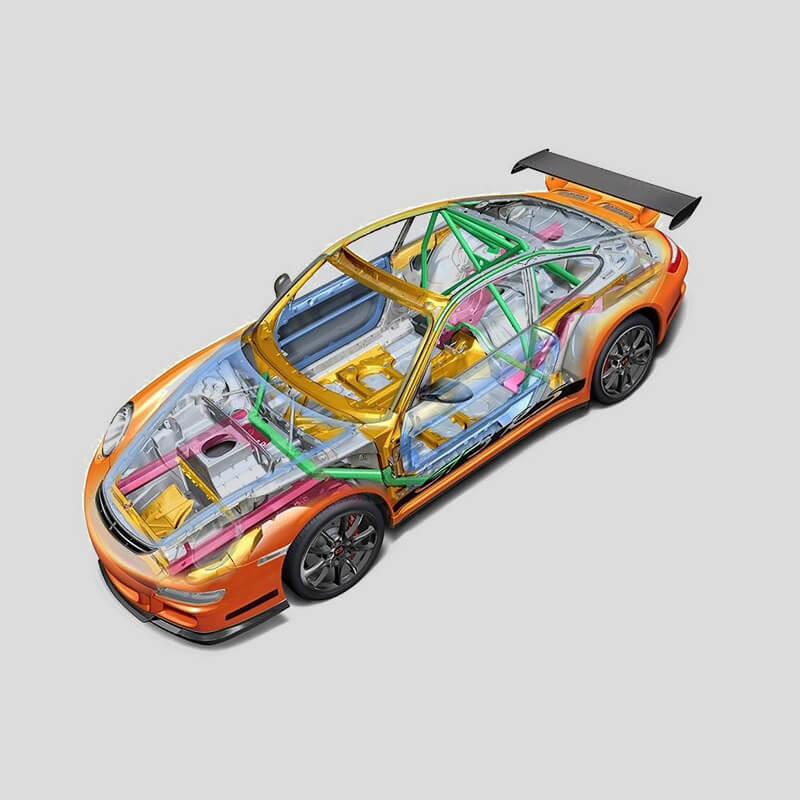 In medium and heavy vehicles, most of the covering parts, such as the body outer plate, and some load-bearing and supporting parts, such as the frame, carriage and other auto parts are stamping parts.
Material selection for automotive stamping parts
Automotive parts production, using a large number of cold stamping process, suitable for many varieties, mass production needs.
Used in cold stamping steel plate and steel belt is the main steel, account for 72.6% of the vehicle steel consumption of cold stamping material close relation with auto stamping parts production.
the stand or fall of material not only decides the performance of the product, more directly affect the product quality, cost, service life, and the rationality of the design of the production and the difficulty, so reasonable choice material is an important and complex work.
Selection principles of materials:
A. Can meet the performance requirements of auto parts;
B. Good physical and chemical properties of materials;
C. Better economy.
Automotive Stamping Components
Sipxmach Metal Stampings is an expert to manufacturing precision automotive metal stamping parts& engine parts, chassis stamped parts with various metal materials and alloys.
Our most common component parts include:
When you choose Sipxmach Metal Stampings for your automotive needs, you will always enjoy:
TOP QUALITY PARTS
-When choosing a sheet metal fabrication supplier, first should consider always the stable quality. We are an ISO 9001 and TS16949 certified metal fabricator, and we use uncompromising quality practices in the manufacturing of all our components. Sipxmach Metal Stampings is also ROHS compliant.
ONE STOP SOLUTIONS
-We can produce components in all shapes, sizes and forms. We can do all sizes and shapes different automobile stamping parts from small quantity to batch production. Our presses include 40tons, 50tons, 80tons, 200tons, 350tons, 500tons, 800tons and so on.
Sipxmach metal Automotive stamping services using hot rolled steel, cold rolled steel, stainless steel, galvanized steel, spring steel, aluminum and copper.
Capable of stamping parts including thicknesses of 0.01 in. to 0.2 in. and tolerances of +/-0.005 in. Capabilities include punching, blanking, embossing, bending, flanging and coining.
Low to mass volume production offered. Value added services such as assembly, welding, riveting, plating, coating and heat treatment provided.
COST SAVINGS SOLUTIONS – Contact our technology department to discuss your project from first step of prototyping samples to batch production about your automobile stamping parts. Saving you money by providing innovative, cost-effective solutions is our responsibility.
Automotive Stamped Systems
At Pacific Metal Stampings we understand that the automotive industry demands strict tolerances and have worked to create component parts for multiple vehicle systems and sub-systems for a wide range of vehicle types. Within every one of these systems and sub-systems are a host of possible part types, materials and specifications.
Sipxmach Co.,Ltd is an Automotive Metal Stamping Company
Sipxmach has served the automotive industry by simplifying the metal stamping parts fabrication. We provide our customers with the information they need in a way that is simple and direct to minimize complications. We suggest the most cost-effective project solution for customers or make some testing for their potential plans before start the project.
Our comprehensive custom metal stamping services and special designed stamping dies can meet any and all specifications you may have. If you need automotive stamping, contact us our project engineer to learn more about our quality products and services. We are a full-service diversified fabricator of gaskets, seals, tapes, and precision die cuts. Aside from the automotive market, all other metal stamping parts are also available. Now our stamping parts have exported to Germany, American, Holland, Italy, Russian. All our products are 100% completely with ISO9001 or TS16949 quality certification. We are committed to serving you with one-stop solution for all your kinds of metal stamping parts from all over the world. No matter your parts need polishing, zinc plating, powder coating, painting or other treatment all are no problem.
Automotive stamping as an important thin sheet metal component forming method, Sipxmach will give you our best and professional suggestion. Contact us we will work with you with free from the start of the project to your final drawing finished, after that we will give our best price for you to decide choose us or our competitor to produce the sheet metal forming parts.
A letter with name and add to us, we will send you our important news and activities.
At Sipxmach, our goal is to help our customers lower production costs and increase production rates and quality. 
Email:             [email protected]
Skype:            Rubioli8677 
Office add:     No.551, Baosheng Avenue, Huixing Street, Yubei District, Chongqing, China