Sipxmach Fine blanking stamping introduction
Sipxmach is fine blanking companies in China.
Our products' equipment and engineers are optimized for Automobile and furniture custom metal High precison stamping production.
Quality standard: TS16949 and ISO9001.
Our custom metal finestamping service uses a combination of 80tons, 150tons, 300tons, 450tons, 600tons, 800tons, 1000tons presses to provide the most cost-effective solution for high volume manufacturing.
Typical fine-blanking tool is a single-station compound tool for producing a finished part in one press stroke.
The only addition operation needed is the removal of a slight burr.
The process requires a triple-action fine-blanking press.
Closing force, counterpressure, and blanking pressure forces are individually and infinitely adjustable.
Fineblanking provides no fracture zone shearing. This is accomplished by compressing the entire portion and then extracting the blank from an upper and lower punch. This enables the process to maintain very narrow tolerances and possibly eliminate secondary activities
How fine blanking works?
Fine blanking aims to increase the length of the shear zone and decrease the torn zone during the blanking process. Fine blanking also can decrease the height of burrs. Now almost all stamping factories are trying to improve metal stamping products quality and through some simple ways to achieve precision fine blanking's effect.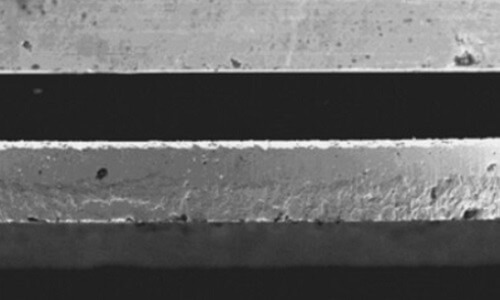 A typical sheared surface of fine blanking
Generally, the clearance between upper and bottom die of the blanking tool determine the dimension tolerance accuracy. Smaller clearance means fine blanking tools will be wearing more quickly. You should find the balance between good appearance with precision dimensions and the life of the tool. The tooling of fine blanking clearance will affect the final stamped part burrs height. Hope the following picture of a stamping factory experience will help you understand what is fine blanking, and what difference between fine blanking and common punching and blanking process for sheet metal parts.
Compare with fine blanking how conventional Punching works?
In order to understand fine blanking you should know what takes place during conventional metal punching.
First of all, you should know all metal material have a particular elastic distortion behavior. In conventional stamping, the material distorts upon initial blanking contact. Figure 1 show the first step of cutting a hole in a sheet metal
When the punch contact with the sheet metal face, the sheet metal start to deform at the point of the punch. When the downward force of press exceeded of the material yield strength, the punch begins to penetrate the metal's surface.
When the downward force exceeded the material tensile strength, the metal breaks or fractures at the edge of the punch from the metal matrix. You can see the cut edge obviously partially cut and partially broken or fractured by naked eyes. The cut edge we call it "cut band"
In Most cases, the "cut band" around 10 to 30 percent thickness of the sheet material, rest of the thickness is fractured. The fracture zone has two main causes:
The leverage action placed on the sheet metal tends to cut the metal apart, the distance between the punch and the metal material determined it
The deformation that is allowed during the cutting process also allows the metal to fracture prematurely.
During the cutting process, the sheet metal deform severely results it has big straining, and turn to internal stress. Trapped stresses will relieve slowly and cause the part lose its flatness. This is reason why fine blan
Following picture shows a fracture plane of the metal created with a conventional metal punching process. The cut surface has a rough appearance in the fracture zone of the cut.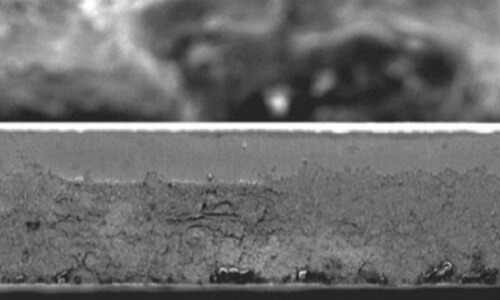 A cut band created with a conventional metal punching process
Burr Height, Shear Zone Length

Cutting Speed




(FPS)

Shear Zone




Length (%)

Burr Height




(0.001 in.)

High-strength Steel (50-XF)(Thickness=0.054″)

0.5
40
1.8
12
56
1.8

Aluminum (2011-T3)




(Thickness=0.041″)

0.5
46
0.7
12
46
0.75

Copper (110)




(Thickness=0.016″)

0.5
70
0.6
12
90
0.6
How to choose precision fine blanking or routine stamping manufacturer ways?
Sheet metal material thickness: 0.5mm to 4.5mm
Tolerance: 0.05mm to 0.1mm
Material machinery performance is difficult for punching off.
Material:
Sheet metal
Aluminum
Brass
Stainless steel
Copper
Fine blanking process
Fine blanking is a high precision metal forming process used extensively in the automotive, heavy duty, electronics, medical, lawn and garden, and general industrial industries. Punch direction press, counter punch force, compressive stress. Most of the equipment and setup for fine blanking is similar to conventional blanking. Three separated forces of fine blanking and a small clearance between the up and lower die to assure the sheet metal lowest burrs, additional finishing on the contours is generally not required.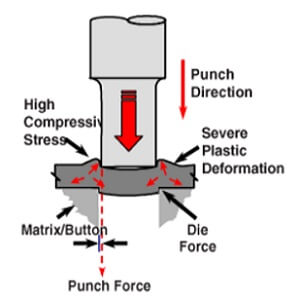 First step of cutting a hole in a sheet metal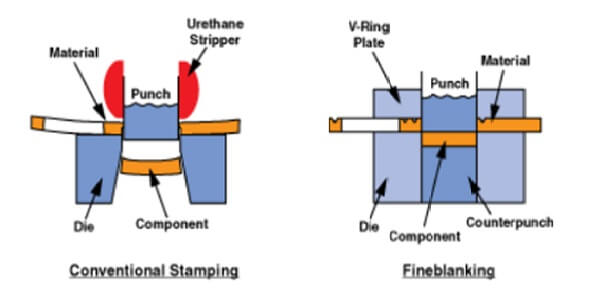 Fine blankness AND conventional stamping
The main function of fine blanking is decrease the plastic deformation of sheet metal material during stamping process, during punching process die force and compress stress hold the material cannot be torn, then it can get the precision dimensions, free burrs, smooth surface.
The last step of precision blanking is air blasts or mechanical sweeps remove part and slug from die area.
Fine blanking cost-efficiency compare with machining and laser cutting much faster, but slower than tradition blanking, and the cost of tooling more expensive than punching die.
Suggestions: constant die can't make precision stamping parts
Why progressive die stamping process can't make fineblanking parts? progressive die limited space it is almost impossible to design the precision tooling to apply three force on sheet metal.
From the above description, now we summary the disadvantages and advantages for fine blanking.
Advantages and disadvantages of fineblanking:
The advantages of fineblanking are excellent dimensional control, accuracy, and repeatability through a production run; excellent part flatness is retained; straight, superior finished edges to other metal stamping processes; little need to machine details;multiple features can be added simultaneously in 1 operation. Smooth surface, precision dimensions, minimum burrs.
The main disadvantages of precision blanking: Tooling too expensive and only can use on single punching, Slower than traditional punching, maintenance cost higher than other's blanking process.
At SipxMach, our goal is to help our customers lower production costs and increase production rates and quality. Interested to see what SipxMach can do for you and your team? Contact us to schedule a tour of our state-of-the-art facility
Email:             [email protected]
Skype:            Rubioli8677 (Sales manager)
Office Add:    No.551, Baosheng Avenue, Huixing Street, Yubei District, Chongqing, China